Brian Graydon | Apr 20 | 2 min read
Industry 4.0 and the Smart Factory
Industry 4.0 refers to a new stage in the Industrial Revolution which focuses on smart and autonomous systems fueled by data and machine learning. Sometimes referred to as Industry Internet of Things (IIoT) or smart manufacturing, it connects physical production and operations with digital technology, machine learning and huge amounts of data to create a better connected production system. PPI RapiTrim Laser Resistor Trimming and ProVia Laser Drilling Systems are designed with this concept in mind. All systems are able to output data on production factors as well as maintenance schedules and then take feedback to alter procedures.
Manufacturing has been evolving since the 1700's with four distinct revolutions that the world has either experienced or continues to experience today.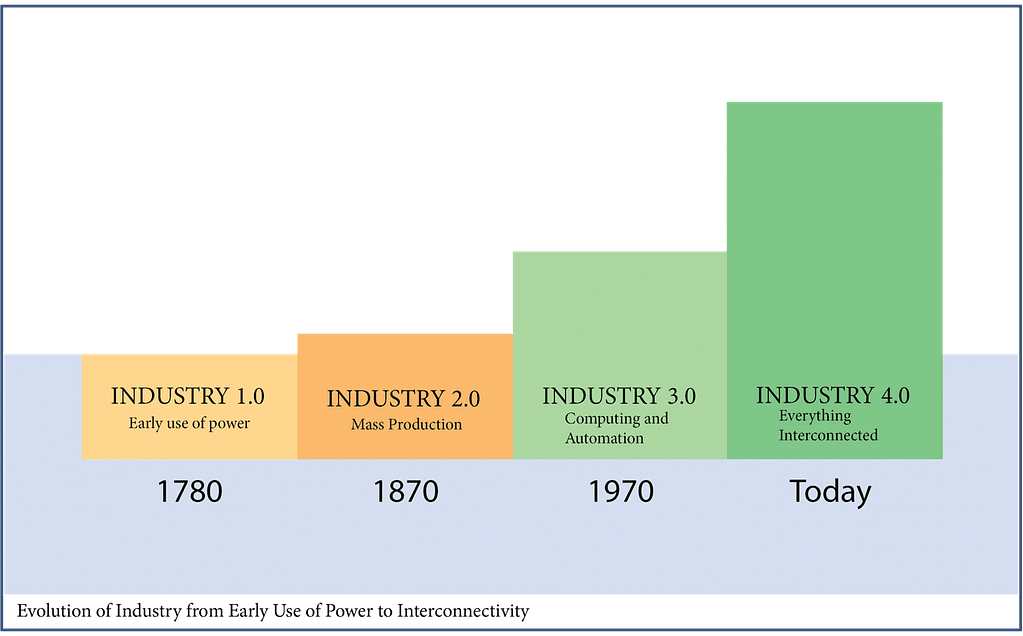 What is a Smart Production System?
To qualify as a smart industrial system, machines must be monitored and controlled in real time. Each system is required to have the capacity to output data allowing the accurate tracking of production, find and correct problems as well as make informed decisions. Production systems will have the capability to analyze their own data to detect defects or predict when maintenance is needed and even book the appropriate service.
All of this data can be analyzed using advanced program management software, mining data to create the best production and maintenance planning and implementation for each unique scenario.
PPI Systems control software ProSys has many built-in features that allow systems to work within an Industry 4.0 manufacturing facility. These include:
Embedded Windows 10 64-bit architecture with its modern connectivity options and continuous updates as new features appear.

Software features designed to feedback information on service, calibration and maintenance needs.

Network connection allowing communication with local as well as cloud based servers.

Real-time system monitoring for process integrity.

Maintenance tracker keeps a log of all system maintenance and history and provides prompts at maintenance intervals.

Full system diagnostics and data logging for enhanced product support and predictive maintenance.
As the cost of digital technology continues to fall and the sophistication rises, it has become easier and less expensive than ever for businesses of all sizes to invest in this technology. Many studies have concluded that Industry 4.0 ensures that business who adopt this technology will have a competitive advantage.
PPI Systems is a leading supplier of laser-based material processing test and inspection systems. The company provides a broad range of turn-key solutions to the interconnect and electronic component market for via drilling, circuit processing, trim and test, and high-precision micro-machining.